EU plans to expand renewables will reshape land uses in Europe, and this may trigger conflict. Decision-makers must develop strategic spatial planning, through eco-sensitive mapping and community engagement, to ensure the solar and wind revolution does not come at odds with ecosystems' and people's needs.
Erica Gentili and Alberto Vela report
As windmills and solar panels proliferate across Europe, the debate over where these green technologies should and should not be deployed becomes more heated.
Transitioning to renewable energy comes with cross-cutting benefits that far outweigh their impacts when compared to fossil fuels. But this doesn't mean that they can be implemented without any precaution: the benefits are many, but only if handled with caution and care for biodiversity as well. It can be a win-win situation for all, provided that some basic safeguards are respected.
Building on the Paris Agreement Compatible energy scenario, which shows the path to reach a 100% renewable energy grid by 2040, the EEB has designed a spatial planning strategy to scale up renewable energy capacity in harmony with nature protection and local communities.
Renewables location matters
The potential environmental impacts of renewable energy sources (RES) are mainly linked to their location and related infrastructure which, if not planned accordingly, might result in adverse effects on biodiversity and the surrounding ecosystems.
According to a LOCOMOTION project study published in Nature, between 0.5% and 2.8% of the EU's total land area will be needed for solar energy by 2050 to achieve climate neutrality. The envisaged, accelerated uptake of renewables entails changes in land use as well as an increased need of raw materials to manufacture the turbines, solar panels, and other assets needed for the transition.
Most importantly though, installing renewable energy technologies and related infrastructure might entail various degrees of habitat fragmentation. These impacts are mainly due to the necessary interventions at project locations, which often lead to the modification or removal of natural or agro-ecosystems, as well as the disruption of migratory patterns and habitats of vulnerable species. Social and political reactions of communities, if not properly involved, might also be an unpleasant side effect.
Mindful mapping and planning
Careful mapping and sound spatial planning are key to identify suitable and unsuitable areas and direct the deployment of renewables installations accordingly.
To realise renewables that are sensible enough to the environment, it is possible to direct the development of renewable energy projects to the areas that are the least environmentally sensitive. To do so, different types of areas can be identified, based on their suitability to host the RES: rooftop solar and renewables go to areas, wider landscapes and buffer zones, protected and strictly protected areas.
The identification of 'go-to' areas should also be done with proper public participation procedures, thereby ensuring that citizens and civil society are involved in the process. This is not only crucial to ensure the compliance with international law obligations under the Aarhus Convention but also increases the public acceptance of renewable projects, all reducing the risks of later legal challenges.
Strategic Environmental Assessments (SEAs) are the way to identify these specific areas and the category they belong to. Proper SEAs that take the sensitivities of different areas and the specificities of the project into account will also reduce the need for later Environmental Impact Assessments.
Renewables go to areas
Europe is home to a large number of areas with very limited environmental impact, like building rooftops or industrial sites, ready to host renewables.
Permitting should be facilitated in these locations, where the conflicts with biodiversity are likely to be limited. Such areas range from industrial or commercial sites, to degraded brownfields and transport infrastructures like motorways, parking lots, irrigation canals, etc. According to the EEA, already in 1996, 1.2% of land was covered by transport infrastructure: considering that this has significantly increased in the last 25 years, these areas provide ample opportunities for solar energy coverage.
Rooftops in particular are the best solution for solar contexts, providing benefits both in terms of energy and environmental impact. Solar development integrated in built environments should be prioritised and administrative barriers to installation should be removed, ensuring that adequate resources are in place and policy barriers removed to enable speedy permitting. Rooftop solar on residential buildings also provides ample opportunities for direct community and consumer involvement, contributing to energy independence and a community-led renewables revolution.
Go-to-areas can also be defined as sites where the population would become highly engaged and be the recipient of a great share of the added value generated by the projects.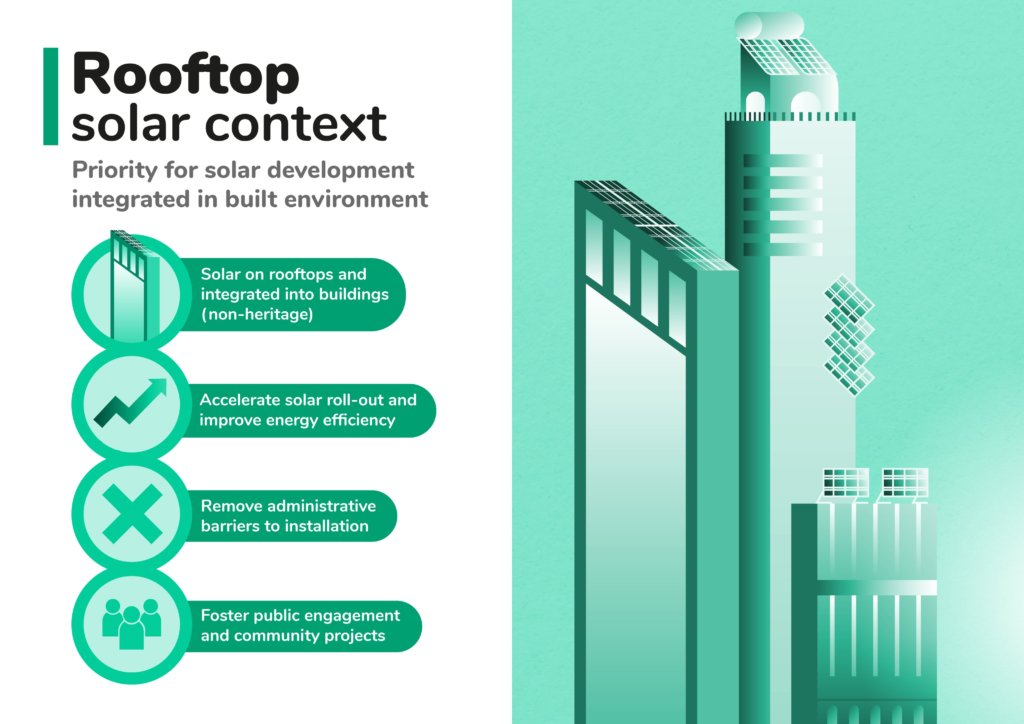 Buffer zones
When we look at non-urban or highly highly built-up areas, strategic spatial planning can be crucial to make the best use of renewable technologies while minimising its impacts to ecosystems.
In wider landscapes, like peri-urban, agricultural lands and non-protected areas, the development of renewable energy sources can be integrated with existing land uses, like crop and animal farming, by also promoting mitigation measures. As some agri-photovoltaic applications have proved, low-disruption renewable projects can even find synergies to benefit biodiversity.
Management plans detailing the use of land for pasture or sustainable agriculture should be required when installing photovoltaic panels in arable lands as well. It's equally important to establish strong ecodesign requirements with respect to disassembly, repairability, and recyclability of materials.
But as we move away from intensive-use land, environmental impact assessment for renewable projects become even more crucial. Even if RES may not have direct negative impacts in these non-protected natural areas, they could still have an impact on protected areas due to their proximity. So renewables installed in these zones would need to be compatible also with closeby protected sites and take into account the nature protection and restoration needs.
Space kept for nature
Strictly protected areas, areas under the Natura 2000 project and zones destined for nature restoration should be avoided for new renewable developments due to their high likelihood of adverse impacts on these areas.
A strict assessment of RES projects should prioritise nature restoration rather than energy needs. By 2030, 30% of EU land and sea will be integrated in ecological corridors under the EU Biodiversity Strategy, while one third of it, meaning 10%, will be under strict protection. These highly environmentally sensitive locations leave plenty of space for other uses, but there the priority is nature protection restoration.
There is no need at all to risk disrupting the valuable ecological status of these sites to carry out the energy transition. Only in specific cases RES can be compatible with conservation objectives, and even in those cases the conservative status of those areas must not undergo any deterioration. Rooftop solar panels for self-consumption in pre-existing buildings is one of those few cases where renewables fit well in nature protected areas. In any case, full compliance with the EU Nature Directives and their assessments must be ensured.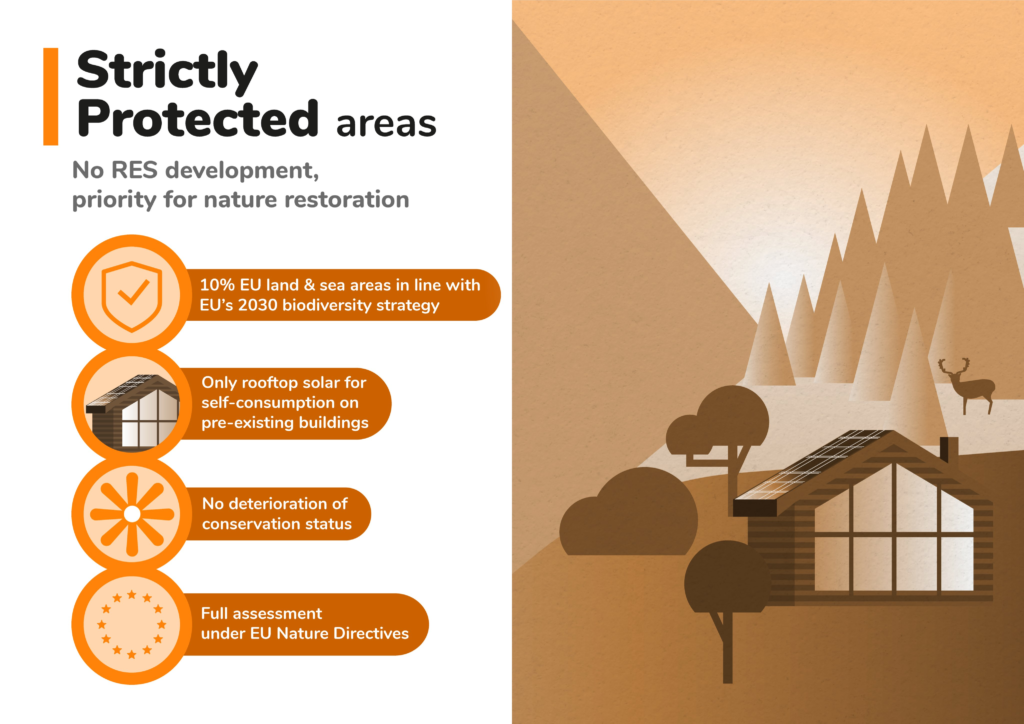 Another repowering route
The energy transition to renewable sources is urgent and must be implemented in the quickest time possible. But "quick" doesn't mean "by any means".
Overriding biodiversity needs and cautions to accelerate the roll-out of renewables is not a solution to the problem and it may actually contribute to it. The EU should refrain from this approach, tabled in the RePowerEU and in the latest emergency regulation by the European Commission, and pursue nature-positive synergistic solutions. These will require some up-front planning to avoid harmful impacts – but proper planning done once will ensure a long-lasting and sustainable upscale and enable speedy planning in the long-term.
Through sound spatial planning, renewables can instead work as the long awaited synergistic answer to the climate, energy and biodiversity breakdown. 
** This article was first published in META